Rhythm Workshop Level 2 (dividing the beat into 2 parts) with limited copy permission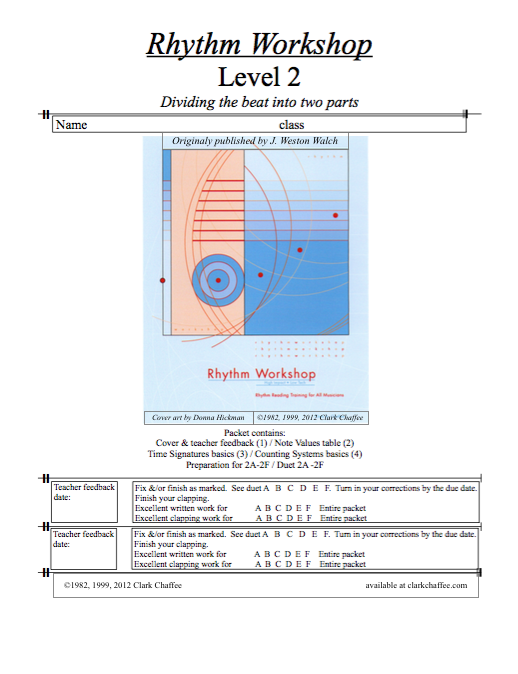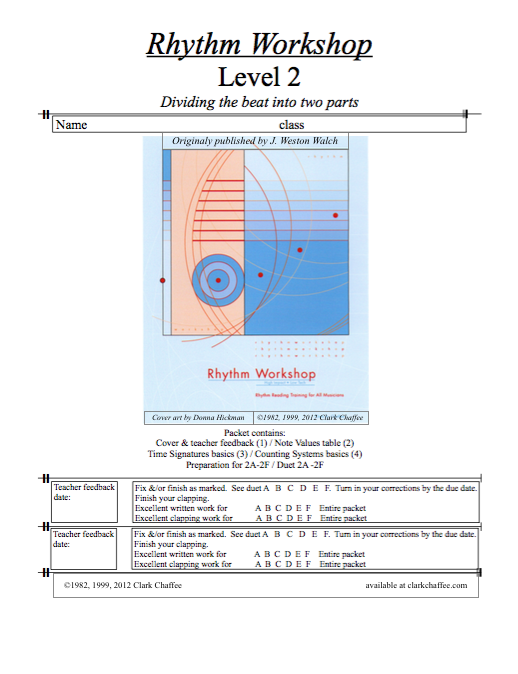 Rhythm Workshop Level 2 (dividing the beat into 2 parts) with limited copy permission
Please scroll down for packet details.
RHYTHM WORKSHOP * low tech * high impact *
Please see "Entire Series Product Description" for overview.
The Level 2 pack includes:
Cover page with easy teacher feedback lines at the bottom
"Note Values" -- reference to note and rest identification and relative values chart.
"Time Signatures" -- introductory time signature information.
"Counting Systems" -- student introduction to the most common counting system.
+
Six rhythm duets. When performed with one student per part and both students counting aloud, students are demonstrating individual mastery of performance skills.
+
Six written preparation pages. These pages help students develop the knowledge base that is necessary to successfully interpret standard rhythm notation. The pages also allow teachers to clearly assess individual student knowledge and expedite remediation as needed.
The Level 2 pack includes note values that divide the beat into 2 parts in the following time signatures:
2/4 3/4 3/8 2/2 4/8 4/4 4/2 and slow tempo 6/8.